LitOUTer Project Closing Ceremony on the RV KTÜ Denar-1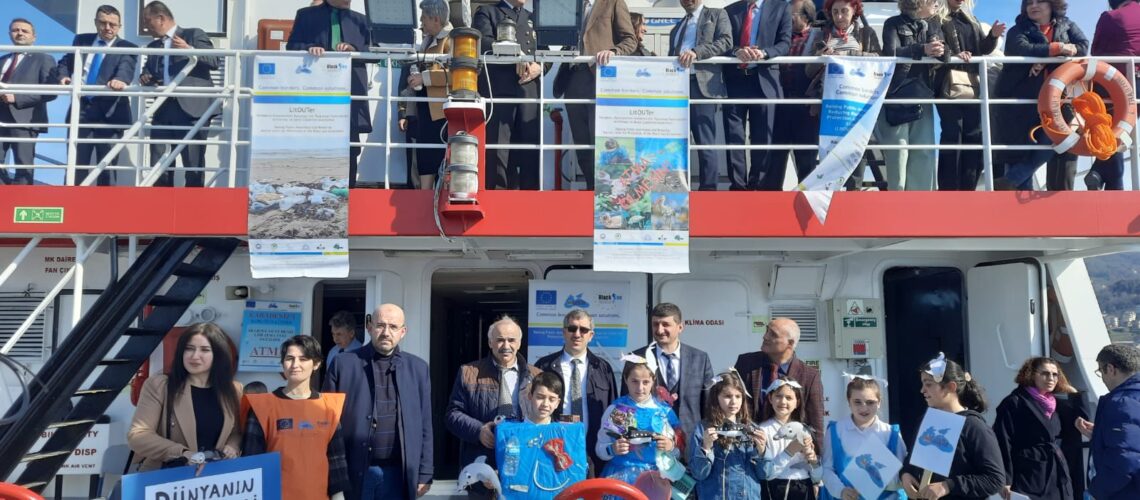 This post is also available in:

Türkçe (Turkish)
Awareness and Reducing Marine Litter for Protection of the Black Sea Ecosystem" (LitOUTer) project has come to an end.
The stakeholders and press attended the project closing event on March 9, 2023, aboard the RV KTU Denar-1. KTU Rector, Prof.Dr. Hamdullah ÇUVALCI in his speech emphasized and supported the importance of the project to reduce marine pollution and protect the Black Sea biodiversity. He also congratulated the KTU academics who took part in the LitOUTer project.
LitOUTer Project Turkiye Coordinator, Prof.Dr. Fatma TELLİ KARAKOÇ highlighted that the project was completed efficiently in terms of transferring knowledge and raising awareness regarding marine litter, which reached nearly 40 thousand people in Turkey, Romania, Bulgaria and Georgia with 6 partners for more than 30 months. Also, LitOUTer Project Leader, Assoc.Prof.Dr. Coşkun ERÜZ underlined once again that single-use plastic materials that do not belong to the marine environment for centuries can create ecological problem to the ecosystem and that the solution should not only be to collect waste by the municipal but NOT TO WASTE in the first place.
In the event, marine litter from 30 m depth was collected from the seabed using dredge and a bottom trawler of RV KTÜ Denar-1 and demonstrated to the public. The purpose of this activity is to reduce marine litter and raise public awareness. The exhibition of plastic recycling materials by Şehit Kaymakam Muhammet Fatih Safitürk Primary School students also took part in the event.
The event also attended by the Eastern Black Sea SG Lieutenant Colonel Dr. Ömer Harun ÖZKAYNAK, Provincial Health Director Hakan USTA, Director of KTU Marine Sciences and Technology Institute Prof.Dr. Ahmet Cemal DİNÇER, KTU academics, Ortahisar Municipality, TİSKİ, H.M.B. Ulusoy Vocational and Technical Anatolian High School and  Şehit Kaymakam Muhammet fatih Safitürk , Primary School representatives and attended by at least 80 people.